Building Supplies
Scope of Business
Chevalier (Building Supplies & Engineering) Limited offers an extensive variety of quality building materials and equipment, including panel water tanks, kitchen cabinets, ceiling systems and waterproofing materials, together with related design and installation services. In addition to this core offering, the company has also been the sole agent for the premium brands, Sekisui Tanks and Manhattan Kitchen Cabinet and Appliances for years. By meeting the requirements and expectations of its customers, the company has built a reputation for superior products and services in the construction industry.
Kitchen Cabinet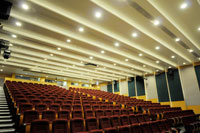 Sloping Aluminum Ceiling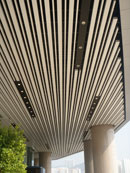 Typhoon-proof Aluminum Baffle Ceiling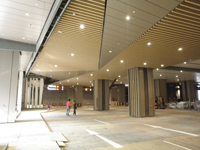 3D Aluminum Baffle Ceiling & 3D Aluminum Ceiling Panel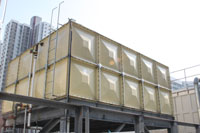 The water tank for Leung King Estate, Tuen Mun
With a board customer portfolio, including residential, office and school campus buildings, shopping malls, hospitals, government buildings and hotels, Chevalier (Building Supplies & Engineering) strives to address the various needs of its customers through the provision of a series of advanced appliances, as well as efficient and reliable after-sales services. Its professional and well-equipped maintenance team provides dedicated technical support to ensure works are completed to the highest standard.

Chevalier (Building Supplies & Engineering) offers an extensive variety of building materials and related services, including design and installation of quality false ceilings, partitions, environmental shading, automatic doors, solar energy systems for offices and commercial buildings, kitchen cabinets, water tanks and wash basins. The company is also a distributor of noise barriers and ceiling systems. Recently, the company has developed the waterproofing material market and has also been the agent for a number of high performance green waterproofing products.
Products & Services
Design and Installation of:
- Quality false ceilings
- Partitions
- Environmental shading
- Automatic doors
- Solar energy systems for offices and commercial buildings
- Kitchen cabinets
- Water tanks
- Wash basins


Distribution of:
- Noise barriers
- Ceiling systems


- Waterproofing products
Project Highlights / Major Clients
Hong Kong
Aberdeen Centre

Academic and Administration Building for the City University of Hong Kong

Central Plaza

China Lights & Power Co. Ltd.

Choi Yuen Shopping Centre

Courtyard by Marriott Sha Tin Hong Kong

Expansion of Tseung Kwan O Hospital

Fanling Magistrates' Courts

H Cube

Hong Kong Architectural Service Department

Hong Kong Customs Headquarters Building

Hong Kong Disneyland

Hong Kong Housing Authority

Hong Kong International Airport
Hong Kong Jockey Club

Hong Kong Ocean Park

Hong Kong Science Park

Hong Kong University Centennial Campus

Imperial Cullinan

Landmark North

MTR Corporation Limited

New Extension to Canossa Hospital (Caritas)

New Hong Kong Government Headquarter

North Point Government Office

OCTA Tower

Park Islan Phase 6 - AnaCapri

Poly University Innovation Tower

Providence Bay

Shatin New Town Plaza

The Hermitage (Olympic Station)

The Latitude

The Plazzo (Fotan Station)

The Wings

Tuen Mun Hospital

Tun Mun Town Plaza Phase 1

Vision City

Wanchai Police Headquarter Complex

YOHO MIDTOWN

Yuen Long Merchants Association Primary School
Macau
Companhia de Electricidade de Macau

Galaxy Macau

Venetian Macau

Wynn's Macau
China
Dai Ya Bay Nuclear

Power

Plant

Hong Kong Shenzhen Western Corridor

Shanghai Yanlord Property Co. Ltd.

Shenzhen Customs Management Co. Ltd.

Shenzhen Pepsi Cola Beverage Co. Ltd.
Contact Information
Chevalier (Building Supplies & Engineering) Limited
Address: 3/F, Chevalier Engineering Service Centre, 21 Sheung Yuet Road, Kowloon Bay, Hong Kong
Tel: (852) 2111 4725
Fax: (852) 2757 5417
Email:
Go Back

Go to top