Human Resources Management System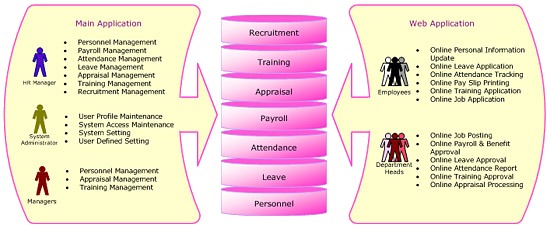 Human Resources Management System (HRMS) aims at boosting productivity by streamlining the use of resources. As an integrated solution for human resources management, HRMS puts all employee information at your fingertips, automates workflow, and supports business growth. HRMS is user-friendly, easy to maintain, but yet powerful. Some highlighted features include:
Extensive Human Resources functions, which includes training records and leave administration.
MPF ready with auto-enrollment, contribution calculations and reports.
Supports multi-currency and multi-company operation with selective companies consolidation.
Image field for storing staff photos
Powerful search function allows users to trace and retrieve employee information agilely.
Powerful utilities for salary review, termination pay, employee transfer and import / export function.
Multi-dimensional security control with audit trial.
Over 50 preset reports covering areas like personal information, payroll, MPF/ORSO, taxation, salary by filterable queries/mail merge.

HRMS modules include:
Personnel Management Module
Personnel management module assists HR Department to define the structure of the organization and HR policies by defining the positions and the reporting relationships between them. A detail employee profile can be built so you can record the employees currently occupying each position, and use vacant positions as the basis for recruitment.
Payroll Management Module
Payroll management module provides you the flexibility to define the payroll formula for earnings and deductions and it allows you to define each pay element whether it is taxable and is included in MPF calculation or not. With multiple pay cycle capability, it helps to process payroll for defferent kinds of employees who are paid at defferent pay dates. You can deliver pay slips and pay history to employees electronically.
Taxation Management Module
Taxation management odule allows users to submit tax returns to Inland Revenue Department via diskette. The system supports electronic tax return filing (IR56B diskette generation). IR-diskette (soft copies) and IR-forms (hard copies) have been approved by Inland Revenue Department as official tax return formats. Also, it allows users to edit taxation information and input additional tax information not specified in payroll.
Leave Management Module
Leave management module allows you to fully chart the course of an employee's leave history. You can enter details of the leave requested, whether it is annual leave, sick leave, injury leave, maternity leave, compensation leave or other special leave.
Attendance Management Module
Attendance management module interfaces with electronic attendance control system to compare the official working hours of each staff. Apart from normal shift, it allows you to input a roster for staff who work in shop or factory. Manual adjustment of attendance record can be done for specail occasion.
Recruitment Management Module
Recruitment management module includes the processess of vancancy definition - both the management role of setting and monitoring staffing levels and the technical role of specifying the skills and expertise required as well as candidate selection, screening, approval, offers, negotiation hiring and the management of the workflows. This link in the chain offers great potential for automation and, therefore, reduction in time and cost.
Training Management Module
Training management module allows you to match the training needs of the workforce to the training courses planned by the organization. Details of each course can be recorded including course materials, facilities and tutors booking, booking status, attendance, course evaluation history and so on.
Appraisal Management Module
Appraisal management module is designed to measure employees' performance through 360-degree appraisal method for multiple level appraisal processing. It turns human resources into a measurable and quantifiable asset. Based on the result of the performance appraisal, you can now train and career development programs that help to increase productivity, improve individual's performance and reduce turnover rate. Also you can review salary and benefits according to the appraisal result.
Sales Hotline : (852) 2953 3322
Email : calvin_hong@chevalier.com