Security Threat Protection & Virtual Private Network (VPN)
Intrusion attacks, Virus, Worms, Trojans, zero-day exploits...what do these mean? And how do enterprises protect themselves?

In the early days we could hide behind a firewall and consider ourselves to be safe and well protected. Not anymore. As attacks have evolved over the years so have needs for various types of security applications.
The Day after Tomorrow: FortiGate's Unified Threat Management Solution.

Today the best security architecture still incorporates a firewall as the foundation. Other security applications are integrated to defend sophisticated attacks in the early stages. We, Chevalier Network Solutions Ltd, as your IT infrastructure partner, would like to introduce the market proven UTM solution: Fortinet to you.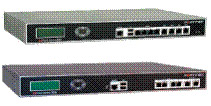 Let's see how it works?
Comprehensive Security Solutions: Firewall + Gateway Antivirus + Intrusion Detection / Prevention + Web Content Filtering + Anti-SPAM + IPSec VPN + Instant Messaging Control / Anti-virus Scanning.
Clientless Remote Access: Deliver Integrated SSL VPN Functionality
Chevalier Care: Professional Onsite Services with Advanced Parts Replacement
Why Fortinet?
Fortinet is the pioneer and market leader of UTM and only provider of ASIC-accelerated, network-based multi-threat security systems for real-time network protection. Also, the FortiGate systems have earned numerous industry awards based on third party testing including ICSA certification for five distinct security applications (firewall, AV, IDP, IPSec VPN and SSL VPN), and NSS certification for its IPS technology.
To know more about Fortinet's UTM solution, call us at (852) 2953 3322 or email to calvin_hong@chevalier.com