Senior Housing
Scope of Business
Chevalier invests in senior housing properties in the US. We select and engage experienced operators to carry out the management and day-to-day operations of the senior housing properties on our behalf.
Laurelhurst Village
Farmington Square Beaverton
Farmington Square Gresham
Well-facilitated housings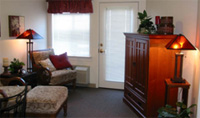 Comfortable environment
In 2011, the Group entered into the senior housing business in the US by acquiring 3 senior housing properties located in Oregon, namely, Laurelhurst Village, Farmington Square Beaverton and Farmington Square Gresham. The portfolio offers a wide range of services from assisted living, memory care, skilled nursing, respite care and hospice care.

A significant development took place at the end of 2012 and in mid-2013 when the Group strengthened its position in the US senior housing market by acquiring a further 20 senior housing properties in North Carolina. These properties are operated by the largest senior housing operator in North Carolina and provide services including assisted living and memory care.

In mid-2017, the Group acquired 2 additional senior housing properties in Michigan, providing assisted living and independent living services to serve different needs of the aged population.

In mid-2018 to early 2019, the Group completed the acquisition of 10 senior housing properties in Nebraska, Nevada, New Mexico, Oregon and Washington, providing assisted living, memory care and independent living facilities. One of these properties primarily serves deaf and deaf-blind residents.

These 35 senior housing properties offer comfortable and caring environments for their senior residents. They are run by experienced operators providing a full range of exceptional senior living and care services with an aggregate of over 3000 beds in the US. In addition to modern amenities and personalised care and support, services are well designed to accommodate different lifestyles.

The long-term outlook for the senior housing market is positive in light of the growing aged population and steady rise in healthcare expenditure in the US. It is anticipated that demand for senior housing will continue to increase.
Senior Housing Properties
Oregon
Avamere at Chestnut Lane, Gresham
Avamere at Hermiston, Hermiston
Avamere at Park Place, Tigard
Farmington Square Beaverton, Beaverton
Farmington Square Gresham, Gresham
Laurelhurst Village, Portland
North Carolina
Autumn Village, Beulaville
Canterbury House, Roxboro
Caswell House, Yanceyville
Cedar Mountain House, Brevard
Cherry Springs Village, Hendersonville
Cranberry House, Newland
Edenton House, Edenton
Hayesville House, Hayesville
Kingsbridge House, Brevard
Magnolia Creek, Winston-Salem
Oliver House, Wendell
Parc at Sharon Amity, Charlotte
Queen City Assisted Living, Charlotte
The Covington, Raleigh
The Magnolia, Clinton
Wellington House, Gastonia
Williamston House, Williamston
Windsor House, Windsor
Woodhaven Court, Albemarle
Yancey House, Burnsville
Michigan
Ashford Court, Westland
The Heatherwood, Southfield
Nebraska
Avamere at Lexington, Lexington
New Mexico
Avamere at Rio Rancho, Rio Rancho
Avamere at Roswell, Roswell
Nevada
Avamere at Cheyenne, Las Vegas
Washington
Avamere at Moses Lake, Moses Lake
Avamere at South Hill, Spokane
Avamere at Yakima, Yakima