Environmental Engineering
Scope of Business
Since its entry into the environmental engineering sector in 1983, Chevalier (Envirotech) Limited has established itself as a trusted specialist in the fields of water treatment, wastewater treatment, air quality monitoring, solid waste treatment and disposal as well as fuel gas transmission and distribution systems in Hong Kong and South East Asia. The company, one of the earliest entrants into the environmental industry, also actively involves in major power plant projects in Hong Kong.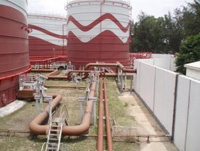 Fuel Oil Pipes at Castle Peak Power Station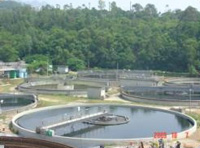 Sedimentation Tank at Tai Po Sewage Treatment Works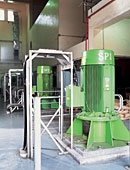 The Central & Wanchai East Pumping Station Screening Plants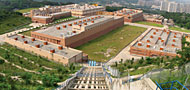 Tai Po Water Treatment Works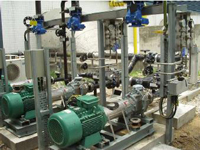 Hypochlorite Dosing System at Black Point Power Station
Chevalier has completed an impressive range of projects, which includes providing additional treatment and water transfer facilities at the Tai Po Water Treatment Works and Pumping Station for the Hong Kong Water Supplies Department; the relocation works of Castle Peak Power Station Emission Control Project for China Light & Power; the supply and installation of electrical and mechanical equipment for Tai Po Sewage Treatment Works as well as the refurbishment of seven existing preliminary treatment works as part of the Harbour Area Treatment Scheme (HATS) Stage 1 treating 1.4 million tones of sewage for the Drainage Services Department.
Chevalier has also contributed its expertise to the Philippines to set up a facility in Manila for the collection, treatment and disposal of medical waste in microwave disinfection technology. The company also worked for the Hong Kong Environmental Protection Department on the design, installation and operation of air quality monitoring stations which collect data recording the pollutant concentration in the atmosphere, and convert this into the 'air pollution index' for public broadcast.
Chevalier always works closely with clients to provide our project management, engineering and contracting expertise in respect of design, installation, testing and commissioning of mechanical, electrical, instrumentation, control and automation systems in order to suit our client's requirements.
Services
1. Engineering / Contracting
Process & detailed engineering design
Design, installation, testing and commissioning of Mechanical, Electrical, Instrumentation Control & Automation System
2. Project Management
Feasibility study, multi-disciplinary design and permitting
Testing & commissioning
Operation
Technical consultancy
Training
After-sales service
Project Highlights
Castle Peak Power Station Emission Control Project
BPPS Backup Fuel Plant Modification
CPPB ULSD Conversion (common plant)
BPPS Gas Supply Project
Central & Wanchai East Pumping Stations and Screening Plants
Harbour Area Treatment Scheme - Stage 1, Upgrading of Seven Existing Preliminary Treatment Works
Tai Po Sewage Treatment Works Stage I/II
Tai Po Sewage Treatment Works Stage IV B
Tai Po Sewage Treatment Works Stage V Phase I
Tai Po Water Treatment Works & Pumping Station Phase I
Tai Po Water Treatment Works & Pumping Station Uprating of Stream I
Accreditations
Works Branch, Development Bureau
Electrical and Mechanical Installation for Sewage Treatment and Screening Plant
Supply and Installation of Pumpsets and Associated Pipework
Supply and Installation of Water Treatment Plant
Hong Kong Quality Assurance Agency
ISO 9001:2008 Cert No. CC792 - Design, supply and installation of water treatment, wastewater treatment, fuel and gas transmission and distribution systems in Hong Kong

Awards

Labour Department
Construction Industry Safety Award Scheme 2011/12 - Silver Prize in the Civil Engineering Sites - Sub-contractors category
Drainage Services Department
The Best Construction Sites House Keeping Award in 2006, 2007 & 2008; Meritorious Award in 2004, 2005 & 2009
Works Branch, Development Bureau
Considerate Contractors Site Award Scheme 2007 - Merit Award
Contact Information
Chevalier (Envirotech) Limited
Address: 5/F, Chevalier Engineering Service Centre, 21 Sheung Yuet Road, Kowloon Bay, Hong Kong
Tel: (852) 2331 6317
Fax: (852) 2757 5614
Email:
cel_enquiry@chevalier.com
Go Back

Go to top