Environmental Engineering
Scope of Business
Since its entry into the environmental engineering sector in 1983, Chevalier (Envirotech) Limited has established itself as a trusted specialist in the fields of water treatment, wastewater treatment, air quality monitoring, solid waste treatment and disposal as well as fuel gas transmission and distribution systems in Hong Kong.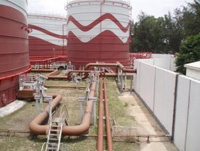 Fuel Oil Pipes at Castle Peak
Power Station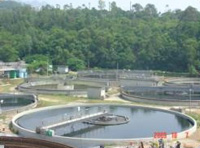 Tai Po Sewage Treatment Works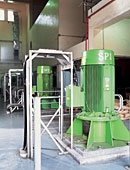 The Central & Wanchai
East Pumping Station
Screening Plants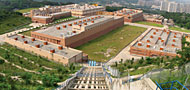 Tai Po Water Treatment Works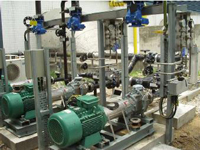 Hypochlorite Dosing System at Black Point Power Station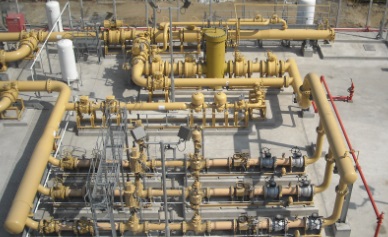 CLP Natural Gas Intermediate Pressure Reducing Station
Chevalier has completed an impressive range of projects, which include providing additional treatment and water transfer facilities at the Tai Po Water Treatment Works and Pumping Station for the Hong Kong Water Supplies Department; the relocation works of Castle Peak Power Station Emission Control Project for China Light & Power; the upgrading of Tai Po Sewage Treatment Works as well as the refurbishment of 7 existing preliminary treatment works as part of the Harbour Area Treatment Scheme (HATS) Stage 1 for Drainage Services Department; the maintenance services at various sewage treatment works for the Electrical & Mechanical Services Department.

Chevalier always works closely with customers to provide project management, engineering and contracting expertise in respect of design, supply, installation, testing and commissioning, and maintenance of mechanical, electrical, instrumentation, control and automation systems in order to suit our customers' requirements.
Services
1. Engineering / Contracting
Process & detailed engineering design
Design, installation, testing and commissioning of Mechanical, Electrical, Instrumentation Control & Automation System
2. Project Management
Feasibility study, multi-disciplinary design and permitting
Testing & commissioning
Operation & Maintenance
Technical consultancy
Training
After-sales service
Tai Po Water Treatment Works & Pumping Station Phase I, Uprating of Stream I & Stream II
Tai Po Sewage Treatment Works Stage I/II, Stage IV B & Stage V Phase I
Castle Peak Power Station Emission Control Project
Castle Peak Power Station ULSD Conversion (Common Plant)
Castle Peak Power Station Wash-down System for Coal Bunker House
Black Point Power Station Backup Fuel Plant Modification
Black Point Power Station Gas Supply Project
Black Point Power Station Sewage Treatment Plant Major Refurbishment
Triennial Term Contract for Maintenance of E & M Control Systems at Various Sewage Treatment Works
Central & Wanchai East Pumping Stations and Screening Plants
Harbour Area Treatment Scheme - Stage 1, Upgrading of Seven Existing Preliminary Treatment Works
Infrastructure for Penny's Bay Development – Contract 1
NENT Landfill Leachate Treatment Works Stage 1
Air Quality Monitoring Stations
Provision of On-Site Chlorine Generation Plants at Various Water Treatment Works
Upgrading of Kwun Tong Preliminary Treatment Works
Reclaimed Water Supply to Sheung Shui and Fanling
Construction of Siu Ho Wan Water Treatment Works Extension and Siu Ho Wan Raw Water Booster Pumping Station
Term Contract for Maintenance and Operation Support of On-site Chlorine Generation Plants (Phase 2) of Water Supplies Department
Works Branch, Development Bureau
Electrical and Mechanical Installation for Sewage Treatment and Screening Plant
Supply and Installation of Pumpsets and Associated Pipework
Supply and Installation of Water Treatment Plant
Electrical and Mechanical Services Department
Registered Electrical Contractor
Hong Kong Quality Assurance Agency
ISO 9001 CC792 Certification
Design, Supply and Installation of Water Treatment, Wastewater Treatment, Fuel and Gas Transmission and Distribution Systems in Hong KongMaintenance of Wastewater Treatment Systems in Hong Kong
Labour Department - Construction Industry Safety Award Scheme
Civil Engineering Sites (Sub-contractors) - Silver Prize (2011/2012)
Civil Engineering Sites (Sub-contractors) - Meritorious Prize (2012/2013)
Drainage Services Department - Construction Sites Safety and Housekeeping Award Scheme
The Best Construction Sites Safety and Housekeeping Award (2006 - 2008, 2018 & 2020)
Meritorious Award (2004 - 2005, 2009, 2019 & 2021)
Development Bureau - Considerate Contractors Site Award Scheme
Merit Award (2007, 2020, 2021 & 2022)
Bronze Award (2016)
Gold Award (2017)
Silver Award (2020)
China Light and Power
Certificate of Appreciation on SHE Performance (2011 - 2013)
BPPS Gas Supply Project
Development Bureau & Construction Industry Council - Innovative Safety Initiative Award
Safety Operational Device Category - Bronze Award (2020)

The Hong Kong openBIM/openGIS Award 2022 – Project Category
Merit Award (2022)
Development Bureau & Construction Industry Council - Innovation Award for Safety and Environmental Excellence (IASEE)
Bronze Award (2022)
Development Bureau & Construction Industry Council - Safety Video Competition
Confined Space Works - Gold Award (2019)
Chevalier (Envirotech) Limited
Address: 22/F, Chevalier Commercial Centre, 8 Wang Hoi Road, Kowloon Bay, Hong Kong
Tel: (852) 2331 6317
Fax: (852) 2757 5614
Email:
cel_enquiry@chevalier.com